CTIL is a diverse company with operations in the Real Estate, Pulp and Paper and Textiles as below:

Real Estate
With the aim of delivering exceptional LifeDesignedTM home and office spaces, the Company by the brand name Birla Estates entered the realty sector in 2016, marking its foray into residential and commercial real estate. Our vision is to transform the perception of the Indian Real Estate sector by creating value and delivering an exceptional experience for every stakeholder. We are well-known name in the industry, offering cutting-edge technology and captivating design in our residential and commercial spaces.
Our portfolio includes high-quality projects that not only provide luxurious living but also promote sustainable and eco-friendly lifestyles. We have successfully completed two commercial projects and launched five residential projects, establishing our presence in major cities such as Mumbai Metropolitan Area (MMR), the National Capital Region (NCR), and Bengaluru. We are committed to setting new benchmarks in the industry by creating properties that embody creativity, sustainability, and innovative design.
Our LifeDesignedTM spaces are meticulously crafted to understand, nurture, and enrich lives, reflecting our dedication to creating exceptional experiences for our customers. As Birla Estates continues to evolve, we embrace new dimensions and explore strategic tie-ups and alliances across top cities. Our goal is to develop land parcels held by the Company while maintaining our focus on trust, transparency, and excellence in real estate.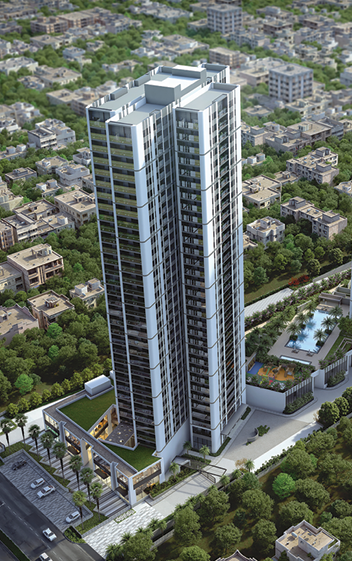 Disclaimer
Birla Niyaara:
The Project "Birla Niyaara Phase – 1 is registered with MahaRERA under the Project Registration No. P51900031916 and can be viewed at https://maharera.mahaonline.gov.in. The Project Birla Niyaara is an integrated development spread across 14 acres being developed in phases and Birla Niyaara Phase-1 is a part thereof.
Birla Vanya:
Projects "Birla Vanya – Phase 1 and Birla Vanya – Phase 2" are registered with MahaRERA under the Registration Nos. P51700019178 & P51700029755 respectively and can be viewed at https://maharera.mahaonline.gov.in.
Birla Alokya:
Project "Birla Alokya" comprising of 218 Villaments and a Club house is registered with Karnataka RERA under the registration No. PRM/KA/RERA/1250/304/PR/190724/002725 and can be viewed at https://rera.karnataka.gov.in.
Birla Tisya:
Project "Birla Tisya" comprising of 2 towers and a clubhouse is registered with Karnataka RERA under the Registration No. PRM/KA/RERA/1251/309/PR/211022/004371 and can be viewed at https://rera.karnataka.gov.in.
Birla Navya:
RERA Registration – Birla Navya (Amoda I and II) – RC/REP/HARERA/GGM/390/122/2020/06 OF 2020; Birla Navya (Drisha 1A) – RC/REP/HARERA/GGM/391/123/2020/07 OF 2020; Birla Navya (Drisha 1B) – RC/REP/HARERA/GGM/553/285/2022/28 OF 2022; Birla Navya (Anaika) – RC/REP/HARERA/GGM/596/328/2022/71 of 2022; Birla Navya (Avik Phase-1) – RC/REP/HARERA/GGM/673/405/2023/17 OF 2023 on www.haryanarera.gov.in. The Project is being developed by Avarna Projects LLP ("Developer"). Birla Estates Private Limited and Anant Raj Limited are partners in the Developer LLP.

Pulp and Paper
Nestled at the foothills of the Himalayas in Lalkua, Uttarakhand our Pulp and Paper division (Century Pulp and Paper) stands out as a prominent player in the industry. With a strong focus on quality, we have established ourselves as a renowned producer of premium writing and printing paper, board, Rayon Grade Pulp, and tissue products.
Operating since 1984, Pulp and Paper holds the distinction of being the largest manufacturer of paper, board, tissue, and pulp from a single location in India. Our presence extends beyond domestic markets, as we have successfully established ourselves as a significant player in the global export market. With service centers, sales offices across the country, and a network of agents worldwide, we ensure a seamless experience for our customers.
Committed to environmental stewardship, we adopt stringent measures to ensure the utmost care for the environment in all our operations. Moreover, we actively engage in community initiatives, acknowledging our responsibility towards the communities we serve. Pulp and Paper continues to set industry benchmarks through its unwavering dedication to quality, environmental consciousness, and community engagement.


Textiles
In the year 2008, CTIL established its textiles vertical, Birla Century, a state-of-the-art, vertically integrated plant located in Jhagadia, Bharuch, Gujarat. Spanning over an expansive area of approximately 100 acres, the Textiles business utilises modern machinery to produce a wide range of premium textiles. Textiles' offering includes bottom weights, suiting, finer fabrics, and household linen. We take pride in imparting innovative finishes to our fabrics, such as wrinkle-free, easy-care, and anti-bacterial properties. These finishes are achieved through world-class automated processing, utilising eco-friendly and non-toxic dyes and chemicals. At the Textiles business, quality and innovation are paramount.
Through our extensive network of distributors and dealers in India, as well as our presence in the global market, we make our exclusive range of home textiles and other products accessible to customers worldwide. With a commitment to sustainability and an unwavering focus on quality, Textiles exemplifies the excellence that has been synonymous with Century Textiles and Industries Ltd. We continue to be a leading player in the textile industry, delivering exceptional products that cater to the evolving needs of our customers.

CTIL at a Glance


Message from Chairman, Mr. Kumar Mangalam Birla