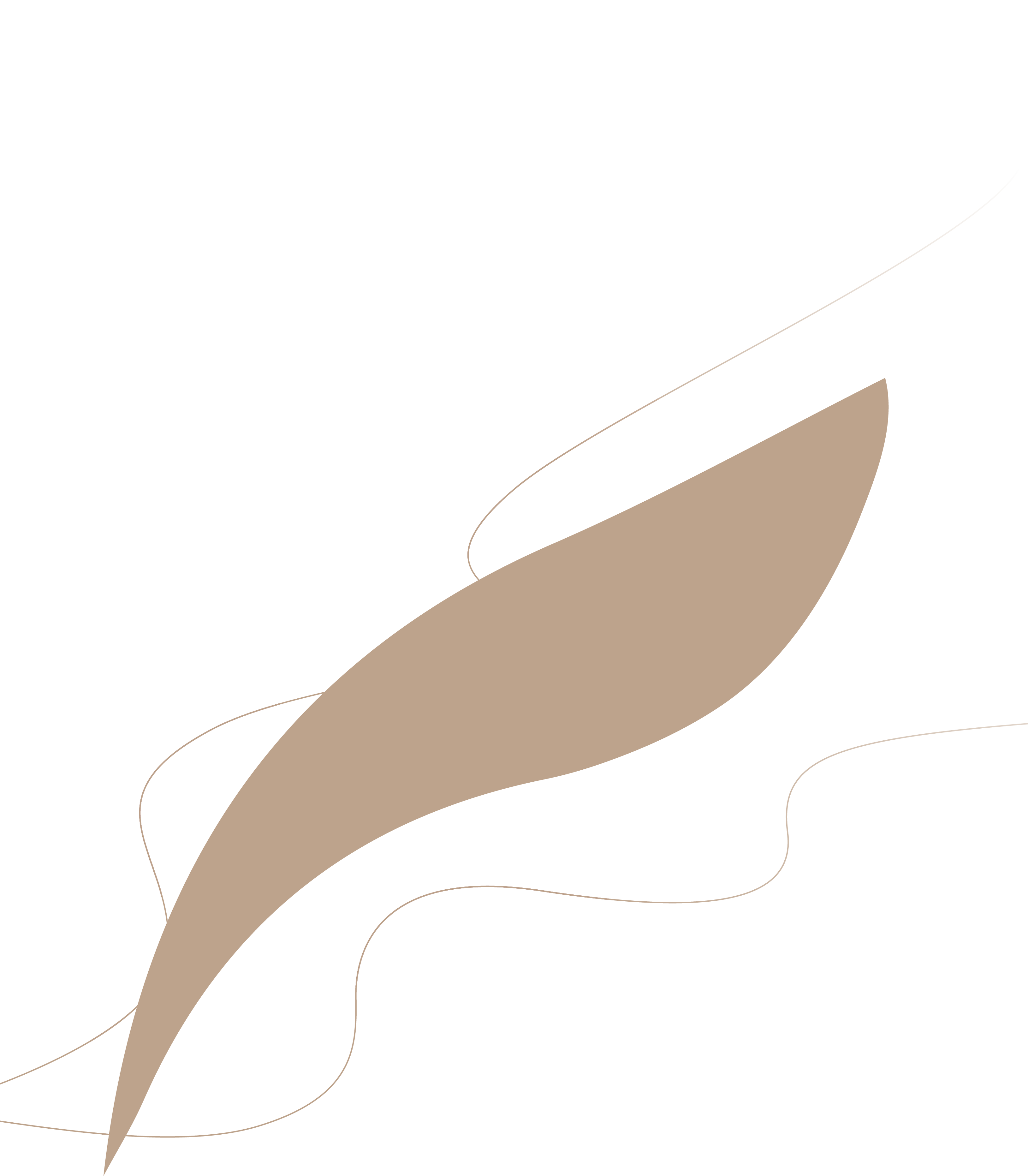 Key Highlights – Intellectual Capital FY 2022-23
Research and development (R&D) Expense:
₹ 4.35 Crores
New Projects/Products Launched:
Real Estate- 5
Pulp & Paper- 3
Textiles- 4
R&D Facility:
1 R&D Facility
R&D Professionals:
61 dedicated R&D professionals
Laboratory Accreditation:
NABL (National Accreditation Board for Testing and Calibration Laboratories) 17025: 2017 Marks & Spencer Buyer Accreditation
Active Patents Held:
1 Granted & 1 Provisional Filing
SDG Linkages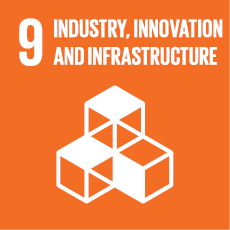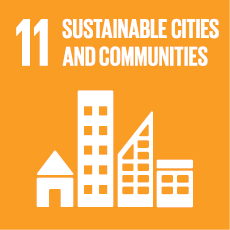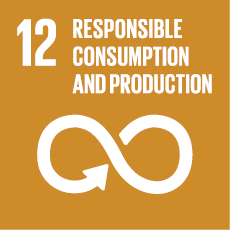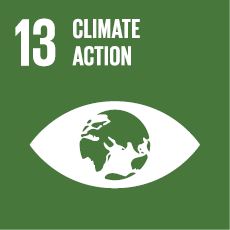 Linkages with other Capitals
Financial Capital:

Investing in Intellectual Capital fosters innovation and drives revenue growth, contributing to the expansion of financial capital.

Natural Capital:

Intellectual Capital investment promotes sustainable practices, optimising resource usage and protecting the environment for the betterment of natural capital.

Social and Relationship Capital:

Intellectual Capital empowers CTIL to address social challenges through innovative solutions, building strong relationships and driving positive change.

Human Capital:

Investing in Intellectual Capital enhances employee knowledge and expertise, enabling innovative thinking and effective problem-solving for the development of human capital.

Manufactured Capital:

Intellectual Capital drives manufacturing process optimisation, increasing efficiency and reducing costs to enhance the productivity and value creation of manufactured capital.
We at CTIL, recognises the critical role of intellectual capital in driving innovation, operational excellence, and sustainable growth. Our intellectual capital is anchored in the diverse knowledge, expertise, and innovative ideas of our employees, who possess deep industry insights and technical know-how across various domains. We actively promote a culture of continuous learning and professional development to enhance our human capital, ensuring that our workforce remains agile, skilled, and adaptable to evolving market dynamics. Furthermore, our commitment to research and development enables us to leverage intellectual capital in product design, process optimisation, and technology advancements, enhancing the value and differentiation of our manufactured capital across all our three business verticals, Real Estate, Pulp and Paper, and Textiles. Through the protection and utilisation of our intellectual property, including patents and trademarks, we safeguard our competitive advantage and explore strategic collaborations to unlock new opportunities. By leveraging our intellectual capital, we aim to drive sustainable innovation, improve operational efficiencies, and create long-term value for our stakeholders while positively impacting the industries we serve.
All our three business verticals continuously foster the power of innovation to drive the positive impact:
Real Estate:
In our Real Estate vertical, we ceaselessly work driving positive change through 'Sustainable Architecture' for both residential and commercial spaces, and we promote creative thinking and resource efficiency. We try to give homebuyers a lifestyle that is more in tune with nature. With a strong emphasis on technological integration for data analytics and design softwares.
Our commercial projects - Birla Aurora, Worli and Birla Centurion, Worli received Platinum certification from Indian Green Building Council (IGBC). Three of our five residential projects namely- Birla Alokya, Birla Navya and Birla Vanya are IGBC Gold pre-certified. The newly launched project Birla Tisya, Bengaluru received IGBC Platinum Pre-Certification. Our flagship project-Birla Niyaara, Mumbai is India's first Residential LEED v4.1 USGBC Platinum pre-certified project.
We have used design techniques to make sure that 40% of the project is green so that the residents and their family can enjoy continuous green spaces.
Amalgamation Innovation and Technology for Better Customer Experience
We have created digital experiences to provide 360-degree virtual tours of our properties as well as an immersive virtual reality experience of flats, accelerating our digital journey. As a result, we have been able to improve customer happiness, deepen our relationship with them, and maintain our development trajectory.
We're constantly trying to find ways to use the power of digitisation to create solutions that will company requirements, discover potential futures, and increase stakeholder value. The buyer is guided through the full sales process via our digital sales platform, from comprehending the project to eventually completing the purchase and making the payment. To increase the precision and efficiency of our processes, we are putting digital technologies like Robotic Process Automation (RPA) into practise. Additionally, we offer a platform for live customer query resolution and escalation. The use of digital outreach platforms have proven to be very much crucial for connecting with our customers.
Pulp and Paper:
Our relentless pursuit of progress has led to the development of ground-breaking products that push the boundaries of our industries and provide unique value to our customers. These innovative solutions, born from the collective expertise and intellectual capacity of our teams, showcase our commitment to leveraging intellectual capital as a driving force behind our success. By continuously exploring new frontiers, embracing emerging technologies, and fostering a culture of creativity and collaboration, we have solidified our position as a leader in delivering cutting-edge pulp and paper products that meet the evolving needs of our customers and at the same time sustainable.
Innovative products developed in FY 2022-23
American A4 Copier
It is high bright and smooth copier paper under US Copier size, 216x279 mm, against normal A4 size 210x297 mm.

Ultrasoft Tissue Development
Our Pulp and Paper business already had a domestic leadership in the development of facial tissue. However, there was a need to improve the softness of the tissue. Importing softening agent was an option, but that would lead to increased supply times since material would come from overseas. So, we innovated and created new ultrasoft tissue paper which was well received by customers.

Century Ultra Soft Facial Tissue
It is more supple and serves as an alternate for imported facial tissue. It has a luxury soft feel and controlled absorbency pursuant to its ultra-softness level.

Century Ultra Soft Toilet Tissue
It is having higher softness and premium quality for rest room. It not only provides soft feel but also it is having superior absorbency.


Reusing Material
We are continuously focusing on increasing the use of bagasse and de-inked pulp to reduce raw material consumption. Furthermore, the entity is innovating and developing ways to reduce quantity of packaging material.

Textiles
In Textiles vertical, we showcase the intrinsic value of knowledge, innovation, and creativity. We have the integrated R&D facility in our Jhagadia Plant location. We deeply committed to excellence and sustainability, we recognise that intellectual capital is the cornerstone of our competitive advantage in the dynamic textile industry. Our success hinges on the collective expertise, skills, and ingenuity of our workforce, who are continually pushing boundaries and driving innovation across our operations. By embracing intellectual capital, we aim to create innovative, high-quality textile products, streamline our operations, and address the evolving needs of our customers while promoting environmental stewardship and social responsibility.
In FY 2022-23 we have developed 4 categories of new products that is Regen-Agri Cotton, IRf (Far Infrared) finish products, Altag Blends, Banana Blends.

Revolutionary Fabric Products through innovation
The R&D department is dedicated to exploring and implementing state-of-the-art textile technologies. The approach involves integrating advanced technological solutions with current challenges based on guiding principles, including market research, outside-in and inside-out innovation.
Market research plays a crucial role in the R&D process and provides the team with valuable insights into the needs and demands of the society. This research helps us identify the goods and products that are currently essential in the market. We aim to bridge the product gap, which refers to the disparity between the existing products and the desired or required ones by focusing on the present requirements of the market.
The R&D team assists in developing innovative ideas and exploring new possibilities in textile technologies by tapping into the creative minds of the team. This approach fosters a collaborative environment where the expertise and visions of designers and researchers contribute to the development of cutting-edge solutions. They conduct scientific studies to understand the latest advancements and trends in the industry, ensuring that their research and development efforts align with the evolving needs of society. This proactive and holistic approach positions the Textiles business vertical at the forefront of innovation in the sector.
We have collaborated with renowned fiber and chemical manufacturers to introduce a range of innovative textile finishes. These finishes are designed to offer unique properties like preventing the growth of bacteria, ensuring long-lasting freshness and cleanliness and other benefits to the textiles produced by the Company.

Driving Circular Economy through Innovation
The single use of plastic in packaging mostly ends up in landfills. Our Textiles vertical recognises the negative impact of single use of plastic on the environment and is exploring the sustainable solutions to reuse plastic waste to promote and adopt a circular economy to tackle this menace. The R&D team also developed the 'Reusable Packaging Bags' to reduce the usage of plastic.
Innovation for Responsible Growth: Fibre Products from Agro-Waste

The Problem Statement:
Textile Material Pollution
Textile industry is among the most essential consumer goods industry. However, the textile industry is indicted of being one of the most polluting industries. Majority of the fibres are synthetic like polyester which is nothing but plastic; pesticides and water intensive cotton or forest fed and hazardously processed fibres. There is clear case of need and want of better alternative.

Unutilised Agricultural Waste
Agro-waste is the term used to describe the waste material produced during farming practices that can be chemical, pesticides or fertilizer. The sources of the wastes are field residues, industrial processing waste, livestock waste and hazardous chemical waste.
On the other spectrum, regenerative source like agricultural waste or crop residue are being disposed of destructively like in case of crop burning or in a cost led manner. Available in millions of tonnes each year, this source is waiting to be put to constructive uses.
The Solution:
'Making Wealth from Waste- Developing Fabrics from Agro-Waste'
We have taken the initiative in producing fibres from agriculture waste in collaboration with AltMat. We have developed a new range of product from agriculture waste fibre called Altag, procured from AltMat and blended with lyocell and cotton fibre in different blend ratio. We have developed Altag samples with stretch. The fibre is converted into textile based yarn and then fabric is woven in different weaves like plain, twill & Oxford in solids, yarn dyed & dobby structures for Men's wear & women's wear vertical.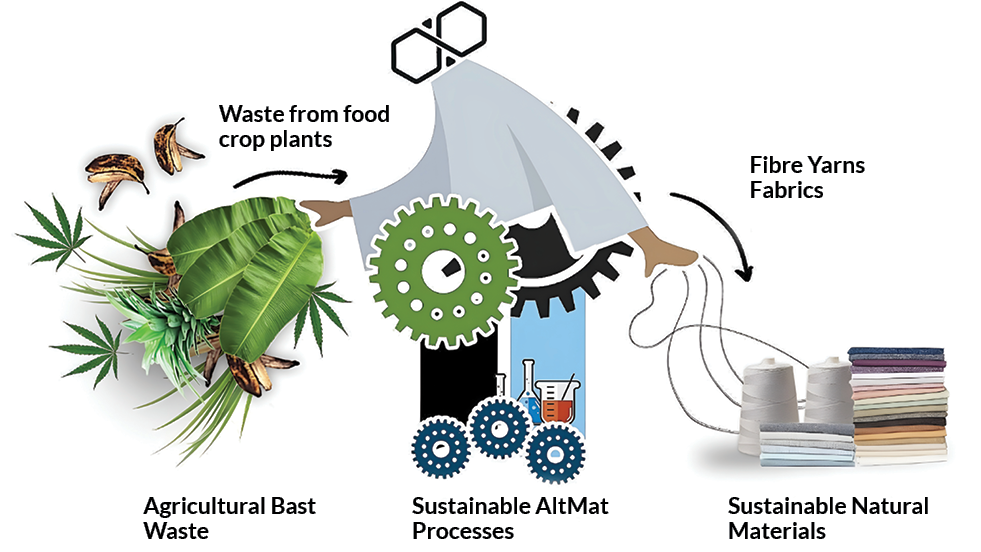 Process of developing fabrics from Agro-Waste:
There is a 5 steps process of making this sustainable product possible. Below is the process flow:

The Result:
We have presented theAltag collection and developed various products for the following brands: PVH, Adidas, H&M, Nike, Levis, Marco Polo, Laguna Clothing etc.
The Benefits: All our commitments towards building a better world are highly focused making positive impacts on all the pillars of sustainability i.e. Environment, Social & Governance. From this initiative we have been making the following impacts:

Sustainable

Saves more than 90% of water

Saves 70% carbon footprint

No use of hazardous chemicals

Increases land yield and contributes to regenerative agriculture

Inclusive

Additional income for farmers and communities involved

Inclusive Practices across supply chain

Performing

Naturally Anti-bacterial

Breathable

Natural and skin friendly

Fights sweat and smell

Accommodates different weather
Concluding remarks:
Intellectual capital plays a critical role in driving innovation, growth, and long-term success across our diverse businesses. We have highlighted our commitment to nurturing and leveraging intellectual capital as a strategic asset within CTIL. By investing in the professional development of our teams, embracing emerging technologies, and prioritising sustainable practices, we unlock the full potential of our intellectual capital to deliver sustainable solutions and drive operational excellence. Moving forward, we will continue to enhance our intellectual capital through ongoing investments in education, training, and collaboration, fostering a culture of creativity and innovation. With our collective knowledge and expertise, we are well-equipped to navigate challenges, seize opportunities, and create sustainable value for our stakeholders. We remain committed to nurturing intellectual capital, driving continuous improvement, and forging a resilient and successful future.
At CTIL, we are dedicated to building a sustainable future through responsible business practices and stakeholder engagement. We would like to express our sincere appreciation to our valued stakeholders who have contributed to our journey towards sustainability and long-term value creation.
Throughout this report, we have highlighted our commitment to protecting the environment, empowering communities, enhancing supply chain management, promoting human rights, and delivering exceptional customer experiences. These material topics have guided our efforts in creating positive social, environmental, and economic impacts.
Our accomplishments, challenges, targets and goals concerning E, S and G aspects mentioned in this demonstrate our commitment to sustainable and responsible growth with a clear focus to create a better tomorrow.
We firmly believe that sustainability and business success go hand in hand. By integrating sustainability into our operations, we have not only reduced our environmental footprint but also created value for our stakeholders.
Looking ahead, we remain dedicated to continuous improvement and innovation. We will continue to invest in research and development, fostering a culture of learning and knowledge-sharing, and strengthening our relationships with stakeholders. We recognise that addressing the world's sustainability challenges requires collective action. We invite all stakeholders to join us on this journey of creating a sustainable future. Your collaboration, feedback, and support are vital as we work towards achieving our shared aspirations.
We are committed to advancing sustainability, creating value for our stakeholders, and positively impacting the communities we operate in. By integrating sustainability into our core business practices, we strive to contribute to a more sustainable and inclusive world.
Thank you for your continued trust, partnership, and belief in our mission.
Social & Relationship Capital


Home