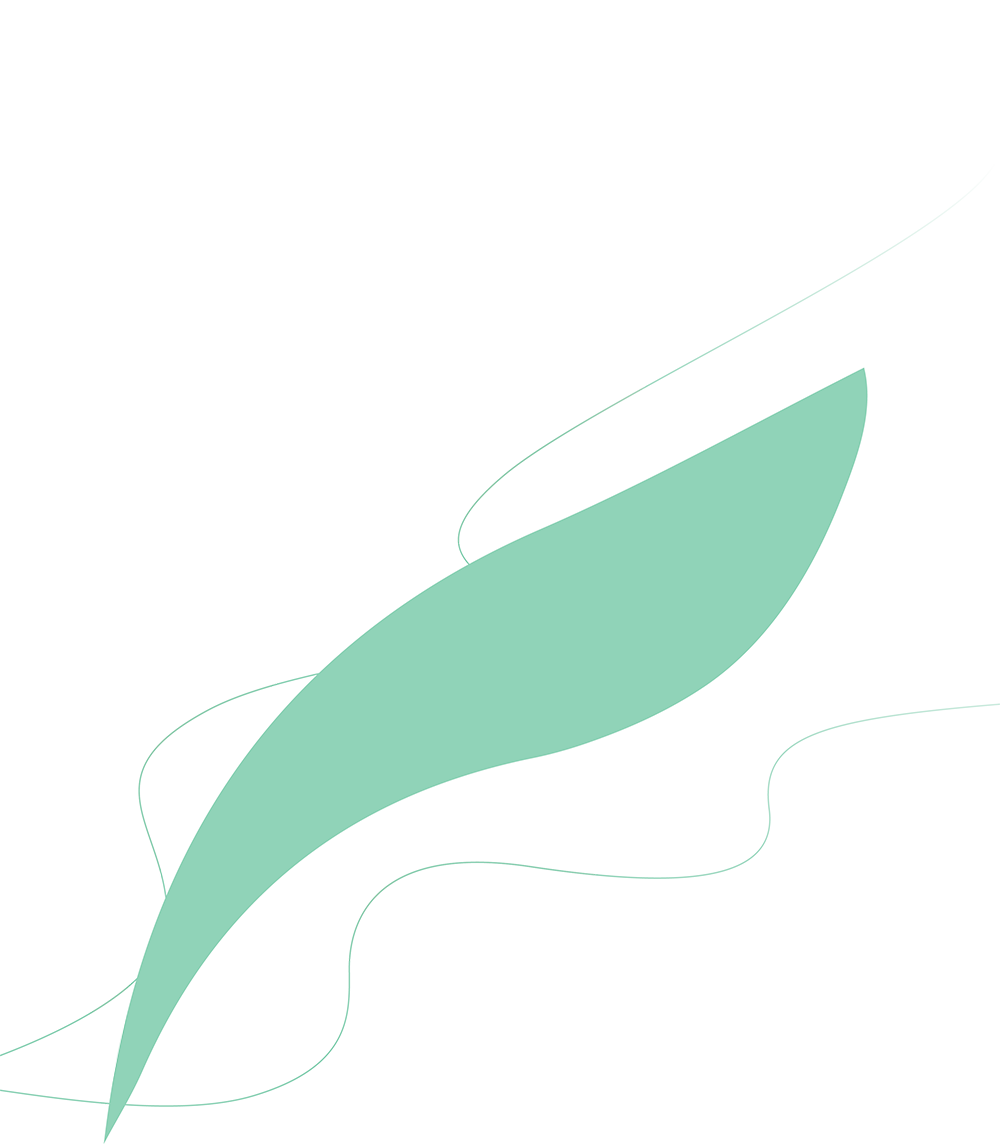 Key Highlights – Natural Capital FY 2022-23
Reduction in Scope 1 Emission:
7% Y-o-Y reduction
Reduction in Energy Consumption:
791 TJ less Energy Consumption as compared to previous year
Renewable Energy Consumption:
40% of Energy Consumption from renewable sources
Raw Material Usage:
53,319 MT less Raw Material usage as compared to previous year
Waste Diverted from Disposal:
99% of the Waste Generated has been diverted from disposal
Water Withdrawal:
6% Y-o-Y reduction
Water Discharge:
6% Y-o-Y reduction
Task Force:
Dedicated Task Force on Energy, Waste, Water
ISO Certifications:
ISO 14001:2015-
Environmental Management System
50001:2018-
Energy Management System
Key Material Topics Covered Under Natural Capital


Climate Change Adaptation



SDG Linkages










Linkages with other Capitals
Financial Capital:

Natural Capital, which includes resources such as land, forests, and minerals, have a direct impact on the financial performance of the Company.

Intellectual Capital:

The knowledge and understanding of ecosystems, biodiversity, and natural processes drive intellectual capital by fostering new ideas, technologies, and sustainable practices.

Social and Relationship Capital:

Access to and conservation of natural resources contribute to social cohesion, cultural values, and quality of life.

Manufacturing Capital:

Natural Capital serves as a raw material source for manufacturing. The availability and responsible extraction of natural resources directly impact manufacturing processes, supply chains, and the overall efficiency and sustainability of production systems.

Human Capital:

Natural Capital provides essential ecosystem services such as clean air, water, and food, which are critical for human health and productivity.
Combating Climate Change:
At CTIL, we are fully committed to combatting climate change and delivering value to our stakeholders. With a focus on renewable energy consumption and energy efficiency, we prioritise reducing greenhouse gas emissions. Currently, 40% of our total energy consumption comes from renewable sources, demonstrating our dedication to transitioning towards cleaner and more sustainable energy.
We have achieved significant progress in our sustainability efforts. There has been a noteworthy 7% year-on-year reduction in Scope 1 emissions, indicating our success in minimising direct emissions from our operations.
In waste management, we have implemented effective waste reduction and recycling initiatives. We have diverted 99% of waste from disposal.
These achievements are driven by our dedicated task force on waste management, which continuously identifies improvement opportunities.
Water conservation is equally important to us. We are proud to report a 6% year-on-year reduction in water withdrawal, reflecting our commitment to sustainable water management practices. Through optimisation and exploration of innovative technologies, we aim to further reduce our water footprint.
To ensure the effectiveness of our climate change initiatives, we have established a dedicated task force on energy, waste, and water. This task force collaborates across departments to develop and implement strategic measures aligned with our sustainability goals. We also maintain a robust governance system to monitor and evaluate the progress of our environmental efforts, ensuring continuous improvement.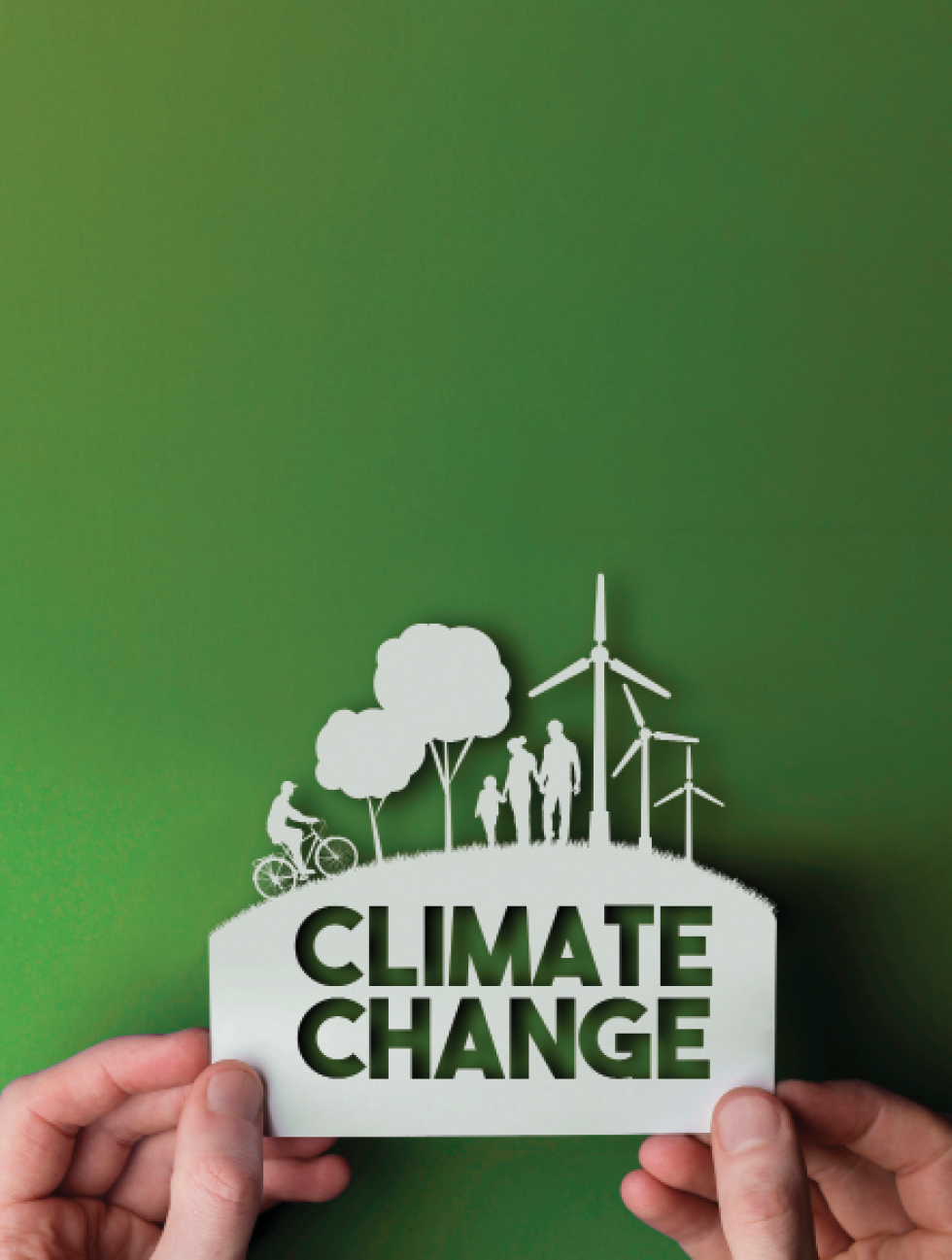 Our 4 Pillars of Green Focus
In line with our commitment to sustainable practices, our Company has placed a strong emphasis on energy efficiency, emission reduction, water stewardship, and waste management. Our green focus enables us to not only contribute to a more sustainable future but also create a positive impact on the environment and the communities we serve.
Energy Efficiency

Creating mechanisms for energy-saving and energy-reduction measures to support and improve our radical and adaptive actions.

Emission Reduction

Improving our energy efficiency & emission reduction across the value chain constantly and transforming to decarbonise our business.

Effectual Water Stewardship

We value water as a precious natural capital. As part of our efforts to conserve and reuse water across all of our on-site operations and in the areas where we operate. We constantly endeavour to reduce the amount of water we use.

Effective Waste Management

We are striving diligently to embrace the 3R (Reduce, Reuse, Recycle) principle of waste management as part of our commitment to creating a greener and more sustainable future.

ENERGY:
Energy Consumption
Energy is one of the core components of conducting our businesses. There is a significant reliance on fossil fuels in the world economy. Ensuring uninterrupted and clean energy supply is a requirement for all businesses & we as a responsible organisation have increased our count on cleaner fuel options across all our business verticals with the clear intention of supporting national and international sustainability goals. Across all our three business verticals, we are committed to using the most energy efficient production practices and contribute towards energy conservation. Furthermore, we aim to reduce our greenhouse gas emissions by focusing on using renewable energy sources and energy efficiency.
To ensure transparency and accountability, we have implemented rigorous monitoring and reporting systems across all our three business verticals; which enable us to accurately track and analyse our energy consumption. This comprehensive data has allowed us to identify areas of high energy usage, enabling us to implement tailored strategies and initiatives to drive further reductions.
Additionally, we have engaged our employees and stakeholders in energy conservation programs, promoting awareness and fostering a culture of sustainability throughout our organisation.
All our three-business verticals fulfil the energy requirements in different manners.
REAL ESTATE:
Our real estate business relies on energy to support its day-to-day operations and meet the needs of our customers. Energy is an essential component in various aspects of our business, including construction, property management, and tenant services.
In terms of construction, energy is required to power heavy machinery, tools, and equipment used in the development and renovation of properties. Once the properties are built, energy continues to be a vital resource in their ongoing management.
To meet our energy requirements, we employ a combination of sources. Primarily, we rely on electricity provided by the local power grid to power our properties and on fuel consumption primarily in diesel generators and company owned vehicles. However, we are also exploring and incorporating renewable energy sources, such as solar power, to reduce our reliance on traditional energy sources and minimise our carbon footprint.
PULP & PAPER:
For Pulp & Paper business operations, energy is obtained through a variety of sources like High-Speed Diesel (HSD), coal, Liquefied Petroleum Gas (LPG) etc. and from renewable energy sources like solar power, Compressed Methane Gas (CMG), wood, pith, black liquor, perul and baggase. Aside from electricity purchased through grid and renewable sources, our Pulp & Paper business vertical has installed Captive Power Plant (CPP) for electricity generation.
TEXTILE:
In our Textiles vertical, we consume energy through non-renewable energy sources such as natural gas, coal, HSD, and electricity purchased. There is also energy consumption from renewable source such as wind power and from agro-waste bio mass.
CTIL Energy Consumption Trends
| Year | Non-renewable (TJ) | Percentage (%) | Renewable (TJ) | Percentage (%) | Total Energy Consumption (TJ) |
| --- | --- | --- | --- | --- | --- |
| FY 2022-23 | 9,542.10 | 60 | 6,458.27 | 40 | 16,000.37 |
| FY 2021-22 | 9,906.41 | 59 | 6,884.12 | 41 | 16,790.53 |
| FY 2020-21 | 7,717.92 | 56 | 6,064.08 | 44 | 13,782.00 |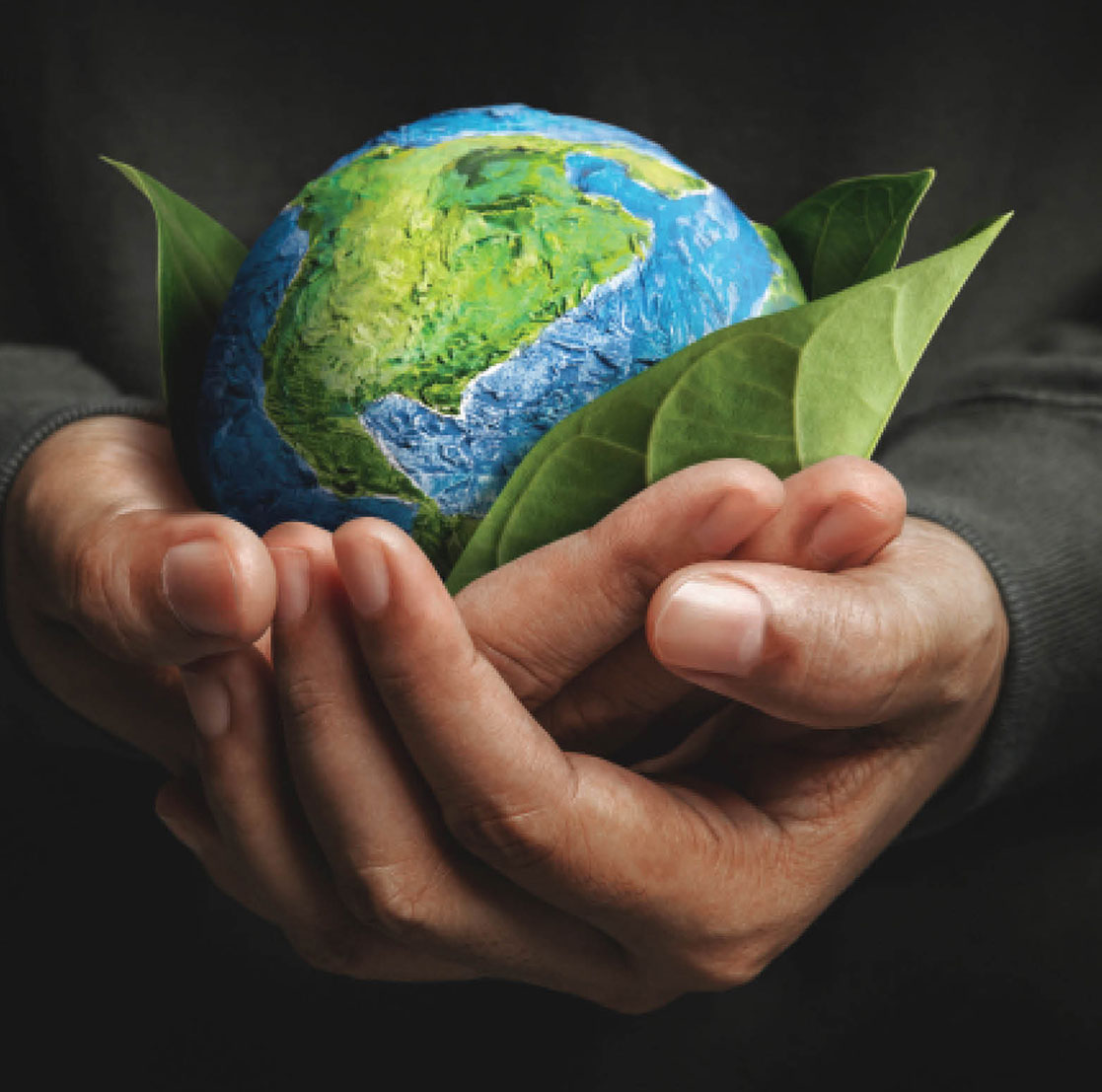 As compared to the previous year the energy consumption has decreased slightly as CTIL focused on energy savings initiative across all the verticals. Over the past three years, there has been a consistent consumption of renewable energy. We also aim to increase our clean energy consumption furthermore in the coming years.
CTIL Energy Intensity
There was a slight increase in energy intensity for Real Estate and Pulp and Paper, while the energy intensity shows a significant decline for Textiles.
| Vertical | FY 2021-22 | FY 2022-23 |
| --- | --- | --- |
| Real Estate (GJ/Sq. Mt.) | 0.22 | 0.25 |
| Pulp and Paper (GJ/MT) | 32.48 | 32.63 |
| Textiles (GJ/MT) | 153.80 | 138.91 |
There was a slight increase in energy intensity for Real Estate and Pulp and Paper, while the energy intensity shows a significant decline for Textiles.
Our three business verticals have unique approaches when it comes to Energy Management. Below are the energy management practices being followed by our three business verticals.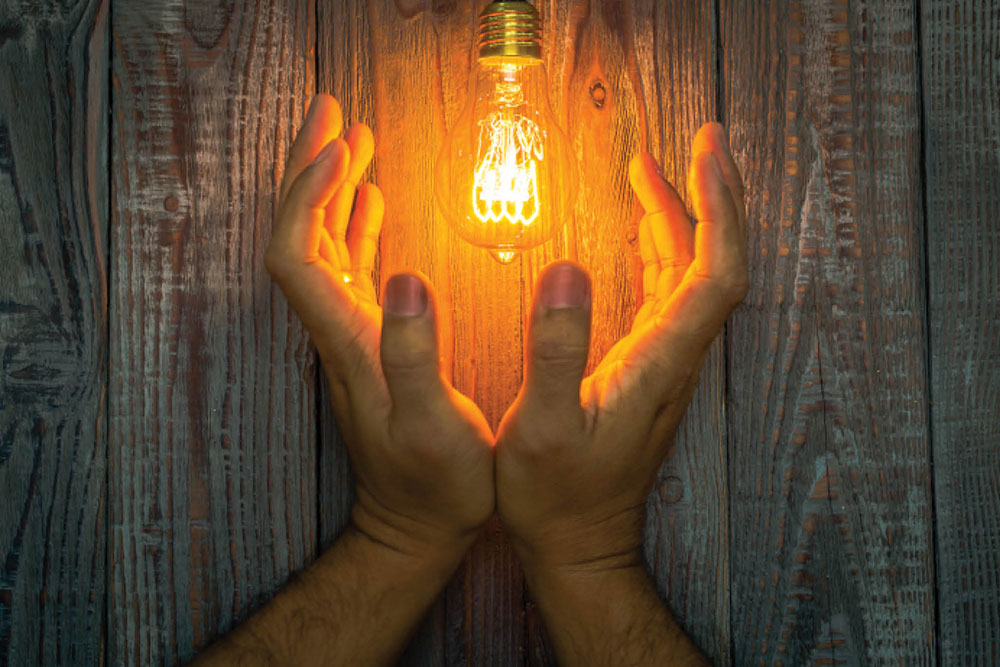 REAL ESTATE:
Some of the energy saving initiatives which we have incorporated in our commercial and residential buildings this year are:
Solar Powered Success: Illuminating a Sustainable Path Forward
For emergency lighting in walkways and paths, solar lights were put throughout the labour camp and site. These lights have since been replaced with more energy-intensive lighting options like Halogen, Metal Halide, and LED. This marks the beginning of vertical real estate developments that integrate sustainable practises by respecting the true worth of energy in the commercial and residential sectors. Solar Lights for General Illumination- To reduce the use of electricity, 40 solar lamps were installed in labour camps and other locations. We save 1,488 kWh of electricity each month because to this approach.
Energy Conservation through Efficiency Measures
In our commercial facilities i.e. in Birla Aurora & Birla Centurion we have implemented many energy efficiency initiatives like Variable Frequency Drive (VFD) has been fixed for cooling tower motor to reduce power consumption, Thyristor replacement, Power saving by increasing chillers set point as per change in weather, Compact Fluorescent Lamps (CFL) has been replaced with Light Emitting Diode (LED) lights, all these initiatives have helped to achieve the annual energy saving of more than 8,000 kWh.
PULP & PAPER:
In our Pulp & Paper business vertical, we are steadfast in our commitment to energy conservation and sustainable practices. Recognising the significant energy demands within our industry, we have implemented a range of initiatives to optimise our energy usage and drive efficiency throughout our operations as a result of our energy management initiatives, we have gradually reduced our overall energy consumption over time.
There are 39 energy saving initiatives which are helping us to save 1,68,43,845 kWh of electrical energy per annum & annual steam saving of 9,659 MT steam/year. Some of the impactful initiatives which are contributing to large portion of energy savings are:
Reduction of Pully Diameter- We reduced the pulley diameter of vacuum pumps from 18 inch to 14 Inch for achieving energy saving. Through this initiative we are now able to achieve annual energy saving of 4,03,200 kWh.
Stop Top Layer- In our board manufacturing section, flow system motors after 'Wire ready signal to voith' system is provided with 3 layer selection instead of 4 layer as 'Top Layer Wire bypass'. This modification helped us a lot save energy. Through this initiative we are able to save 30,80,000 kWh of energy
'Shoe Press Installation'
In December 2022, we installed 'Shoe Press' in the printing paper unit which has proven to be a significant energy-saving initiative, resulting in both enhanced production and reduced specific power consumption. The Shoe Press technology optimises the dewatering process during paper manufacturing, enabling higher water removal and improved sheet formation. This enhanced efficiency translates into increased production capacity without compromising product quality. Moreover, the reduced specific power consumption achieved through the Shoe Press not only contributes to cost savings but also demonstrates a commitment to sustainability by lowering energy usage and minimising the environmental impact of the manufacturing process. This energy-saving initiative stands as a testament to the industry's continuous efforts to improve efficiency and embrace eco-friendly practices. Below are the major results achieved:
Annual Energy Saving of 95,48,000 kWh
Total Annual Cost Savings of ₹ 60.85 million
Specific Power reduced from 793 kWh/MT to 683 kWh/MT
Specific Steam reduction from 1.96 T/T to 1.90 T/T
Average production increase from 215 MT/day to 248 MT/day
TEXTILES:
Through investment in state-of-the-art energy-efficient machinery, process optimisation, and employee training programs, we have successfully achieved substantial energy savings.
'Transforming Turbines, Striving for Sustainability'
As part of our ongoing commitment to energy conservation, we have implemented a significant initiative to revamp our extraction cum back pressure turbine to a fully back pressure turbine. This transformation has yielded remarkable results, saving an 30,000 kWh of energy per day.
By optimising the operation of our turbine, we have maximised energy efficiency and reduced energy losses.
| Initiative | Energy Saving |
| --- | --- |
| Re-engineering of humidification (Luwa plant) | 16,000 kWh per day |
| Replacement of Faulty Traps and additional Control Valve in PAD Steam machine​ | 8 Ton Steam Savings Per Day |

EMISSIONS:
Scope 1 and Scope 2 emissions are monitored at all CTIL's project sites, manufacturing locations, and office locations. The Company is in the process of implementing a monitoring system for Scope 3 emissions as well. The primary source of Scope 1 emissions at all 3 business verticals is consumption of fuels for energy which includes Coal, Petrol, High Speed Diesel (HSD), Natural gas, Liquefied Petroleum Gas (LPG) etc. Scope 2 emissions arise out of consuming grid electricity. We have reduced 63,823 tCO2e Scope 1 emission as compared to the previous year.
We follow GHG protocol to monitor our emissions. We use Intergovernmental Panel on Climate Change (IPCC) & Central Electricity Authority (CEA) recommended emission factors for Scope 1 and Scope 2 emissions respectively for emission computation.

CTIL Emission Intensity
Year over year, we have shown improvement in lowering emission intensity across all three verticals. We have effectively implemented strategies to reduce our carbon emissions while preserving our operational effectiveness through strategic initiatives and investments. As we work to further reduce our carbon footprint and contribute to a better future, we will continue to give emission reduction efforts top priority.
REAL ESTATE:
At our Real Estate vertical, we strive to manage our emissions through various energy efficiency operation. There is a marginal increase in emission intensity. Although we have implemented many energy savings initiatives but for coming years, we aim to manage our emission intensity by embracing renewable energy sources, optimising our operation processes, and promoting energy-efficient practices.
Emission Intensity in Real Estate

R#- There is restatement in the emission intensity figures as compared to the figures reported in Integrated Report 2021-22, this change occurred due to the change in the measurement methodologies used to produce the most accurate figure. The effect of the restatement resulted 0.030 tCO2e/Sq.Mt. and 0.021 tCO2e/Sq.Mt. higher value as compared to the level of emission intensity previously reported for FY22 and FY21 respectively.
Emission Intensity in Pulp & Paper

Our Pulp and Paper vertical has demonstrated positive progress in reducing Scope 1 emissions compared to the previous year. Through the implementation of various emissions reduction and energy efficiency measures, we have successfully decreased our greenhouse gas (GHG) emissions. Key initiatives include the installation of energy efficient technology and upgrading of operational processes. Notably, we have achieved significant reductions in Scope 1 emissions by implementing measures such as the installation of Shoe Press, various energy-saving initiatives related to traps, valve passing, insulation, and the utilisation of Compressed Methane Gas (CMG) generated from our Bio-Methanation plant. These efforts have effectively reduced our thermal energy consumption and contributed to our overall emissions reduction goals.
Emissions other than GHG Emission
All business verticals of CTIL comply with emissions standards set by local and national regulatory bodies. Real Estate, Pulp and Paper & Textiles have all set up robust monitoring mechanisms to properly track significant emissions such as NOx, SOx, and Particulate Matter. All of our boiler stacks and kilns are outfitted with the most recent Electrostatic Precipitators (ESP) technology, ensuring that air quality is maintained in compliance with legal requirements.
| Parameter | Unit | FY 2020-21 | FY 2021-22 | FY 2022-23 |
| --- | --- | --- | --- | --- |
| Oxides of Nitrogen (NOx) | MT | 716.39 | 744.45 | 866.16 |
| Oxides of Sulphur (SOx) | MT | 273.42 | 271.99 | 365.85 |
| Particulate Matter (PM) | MT | 561.40 | 469.97 | 730.33 |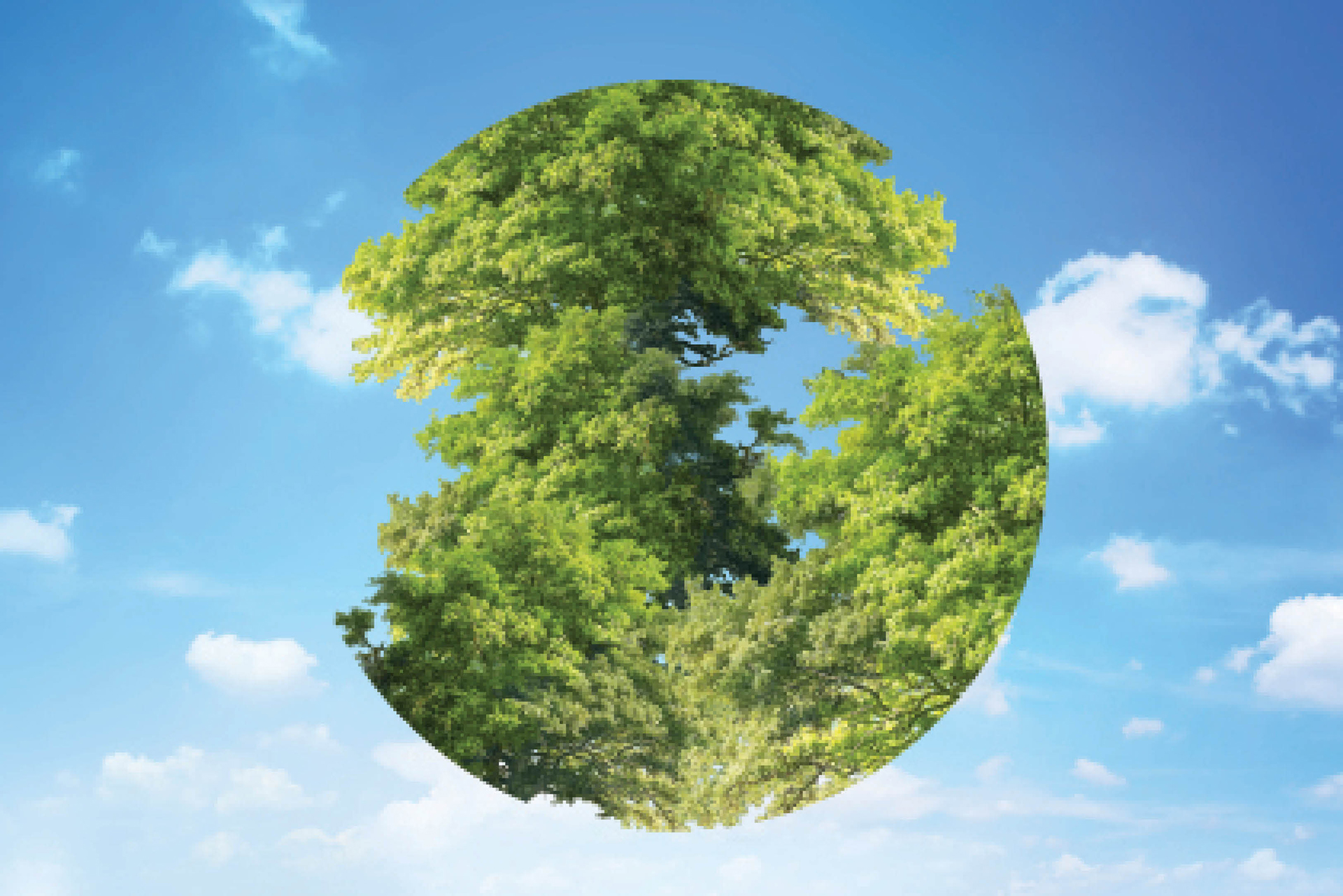 WASTE:
Waste Management Plan:
We continually aim to improve our waste management mechanisms, reduce the amount of waste generated, improve reuse and recycling, and proper segregation of waste wherever applicable. Furthermore, we are integrating the concept of circular economy throughout our operations to further minimise environmental impact. We have dedicated a 3R (Reduce, Reuse, Recycle) waste management plan to manage the waste generated by us efficiently.
'Embracing the 3R Principle: Our Commitment to Sustainable Waste Management'
Waste Reduction: At CTIL, we are dedicated to minimising waste generation as the most effective approach to waste management. Across our three business verticals, we have implemented various measures to identify opportunities for waste reduction. We have has implemented various waste reduction initiatives across its three verticals of real estate, pulp and paper, and textile. In the textile vertical, advanced dyeing techniques and efficient cutting processes have been employed to minimise water and fabric waste. The pulp and paper vertical focuses on optimising production processes and recycling paper waste to minimise overall waste generation. In the real estate vertical, sustainable construction practices and waste management systems have been adopted to reduce construction and operational waste.

Resource Reuse: We actively promote the reuse of materials and resources throughout our operations. Our team continually explores innovative ways to extend the lifecycle of our products and materials. In the Pulp and Paper segment, for example, we utilise Effluent Treatment Plant sludge (ETP) and De-ink Plant sludge (DIP) in board manufacturing. Additionally, we repurpose pith, bark, sawdust, and used oil as fuel in the boiler and lime kiln. These practices not only benefit the environment but also contribute to the efficient use of resources.

Recycling for a Circular Economy: As a responsible organisation, we recognise the importance of recycling in building a circular economy. We have established robust recycling programs that allow us to recover valuable materials and divert them from landfill. Our Pulp and Paper and Textiles business verticals comply with Extended Producer Responsibility (EPR) regulations, falling into the Producers, Importers, and Brand Owners (PIBO) category. We upcycle fly ash to produce bricks and recycle various waste materials such as textiles, metals, cardboard, and paper. Through collaborations with authorised recycling vendors, we ensure efficient processing and reintegration of waste materials like waste oil, e-waste, and battery waste into the production cycle.
By embracing the 3R principle of waste management - reduce, reuse, and recycle - we are committed to creating a sustainable future, conserving resources, and minimising our environmental footprint.
Waste Generation by CTIL -
Total waste generated (MT)
Year
Type of Waste
Total
FY 2020-21R#
Non-Hazardous
2,47,750.80
Hazardous
129.65
Total
2,47,880.45
FY 2021-22R#
Non-Hazardous
2,93,566.69
Hazardous
741.24
Total
2,94,307.94
FY 2022-23
Non-Hazardous
2,93,099.30
Hazardous
1,239.37
Total
2,94,338.67
R#- There is restatement in total non-hazardous and hazardous waste figures as compared to the figures reported in Integrated Report 2021-22, this change occurred due to the error made in previous reporting. The effect of the restatement resulted reduction of 914.08 MT & increase of 51.39 MT as compared to the previously reported level of non-hazardous and hazardous waste figures for respectively for FY22. Similarly, it resulted increase of 99.33 MT & 13.55 MT of non-hazardous and hazardous waste figures respectively reported for FY21.
Waste diverted from disposal:
We at CTIL across our three verticals have successfully diverted a significant amount of waste from disposal. Through diligent efforts and responsible practices, we prioritise recycling, reusing, and responsible disposal methods. By diverting waste from landfills, we are reducing our environmental footprint and contributing to a more sustainable future. We will continue to explore new opportunities and collaborate with stakeholders to further enhance our waste diversion initiatives and drive positive change. We diligently maintain the waste related information in all our verticals, we gather the information from actual measures, like our reusing waste data, waste transfer records from authorised vendors. As a commitment towards our waste management practice, we have diverted 99% of the waste generated from disposal. In this reporting year, through our various initiatives across our three business verticals, we have diverted 2,90,982.64 MT of waste from disposal out of which 2,90,921.40 MT was non-hazardous waste & 61.24 MT was hazardous waste.
Waste directed to disposal
Our waste management plan is focused on minimising the amount of waste that goes directly to disposal. The below graph shows the details of the waste directed to disposal from our various business segments.
In our Pulp and Paper division, no waste is directed to disposal, indicating our effective waste management practices in our operations. Similarly, our Textiles segment has made significant progress in reducing waste directed to disposal compared to the previous year, thanks to the implementation of efficient waste management practices. The waste directed to the disposal is just 1% of the total waste generated. In this reporting year, we have directed 3,356.03 MT of waste to disposal out of which 2,177.89 MT was non-hazardous waste & 1,178.14 MT was hazardous waste.
Waste Management Practices:
Real Estate:
In our Real Estate vertical, we prioritise waste management and have implemented green initiatives at all the project level. One such initiative is the utilisation of sewage treatment plants (STP) to manage sewage waste, aiming for Zero Liquid Discharge in our projects. The treated water from the STP is utilised for gardening and flushing, reducing water wastage. We also practice sustainable measures by reusing the topsoil excavated during construction for landscaping and ensuring appropriate disposal of the remaining soil.
As a part of waste management efforts, we have established specific waste disposal practices in the Real Estate segment. These include selling wooden scrap, waste oil, and cable waste to third-party vendors, recycling building wastes, and ensuring the safe disposal of construction waste. In certain cases, construction waste is repurposed for temporary road building, promoting efficient resource utilisation. These practices align with our commitment to responsible waste management and sustainable development in the Real Estate industry.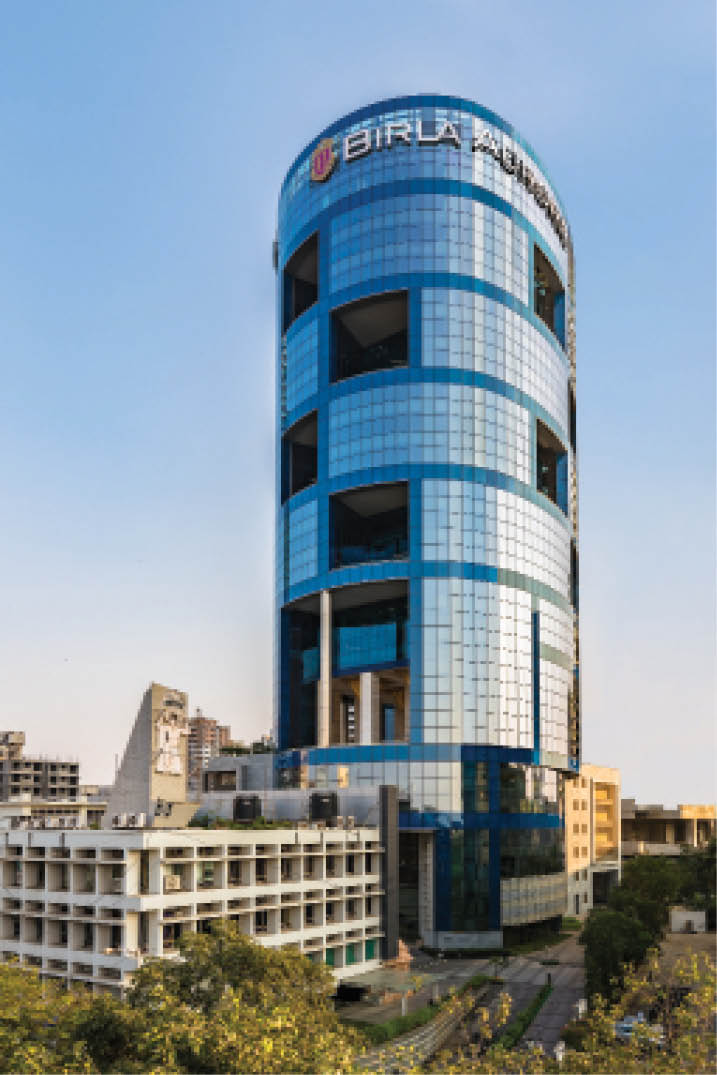 BioHYBRID - Waste to Energy by our Real Estate Segment
About-
BioHYBRID is a bio-methanation by pulverisation process which utilises organic waste digesters and biogas utilisation systems
Outcomes-
As a part of the project, electricity is also produced from biogas. Approximately 225 kWh of electricity is produced daily, which amounts to financial savings of ₹ 2,250 per day.
BioHYBRID also leads to 40% reduction in capital cost and approximately 80% reduction in operational cost. Moreover, the initiative reduces sludge production by 500%.
Key Highlights-
Under the project, 3,70,000 litres of water is recycled in a day
The project mitigates 1,500 kilograms of carbon dioxide in a day
Pulp and Paper:
Some waste management practices which we have been following are:
ETP sludge, DIP sludge have been utilised in Board Manufacturing
Other hazardous waste such as used oil is utilised as fuel in Lime Kiln
Fly ash generated has been utilised by cement manufacturers for their production process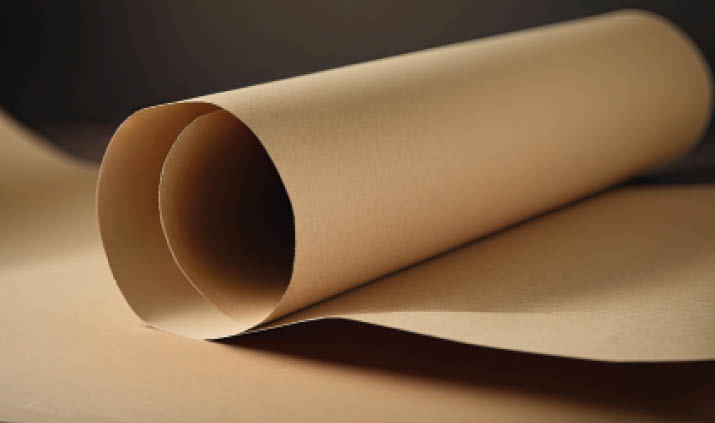 "Harnessing the Power of Biomass Fuel in our Boiler Operations"
Saw dust, bark and wet pith formed in the plant are homogeneously combined with dry pith (from Dipither) in the yard and fed into the boiler as fuel. The chain conveyor feeds coal into the boiler, while the rotating feeder feeds pith. This process results in a Gross Calorific Value (GCV) of pith of 3,800Kcal/Kg.
Textiles:
We are committed to reducing our environmental footprint by implementing efficient waste management systems. To ensure responsible waste disposal and recycling, we engage authorised third-party vendors who specialise in handling various types of waste such as textiles, metals, cardboard, and paper. These vendors adhere to proper disposal and recycling protocols, enabling us to meet regulatory requirements while minimising our environmental impact.
Through our dedicated efforts in waste management, we aim to contribute to a more sustainable textile industry, promoting resource conservation, and minimising the negative effects on the ecosystem.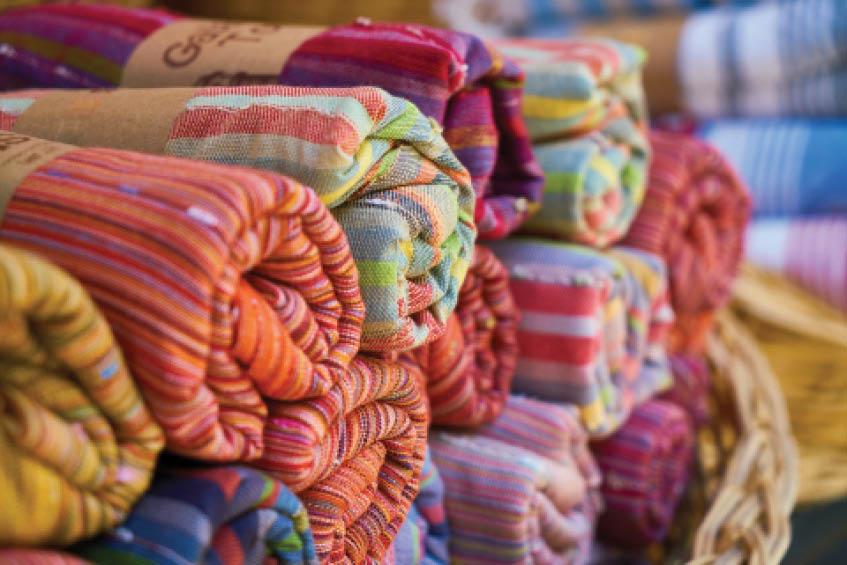 Waste to Energy Programme at our Textiles Vertical
The Textiles vertical has implemented 'Waste to Energy' initiative, which includes the generation of gas from our anaerobic effluent treatment plant. By utilising the anaerobic digestion process, we are able to convert waste from our production processes in the Effluent Treatment Plant (ETP) into valuable biogas. This biogas serves as a renewable energy source that can be used for various purposes, such as generating heat and electricity. This innovative approach not only helps us achieve our waste management goals but also contributes to the overall reduction of greenhouse gas emissions.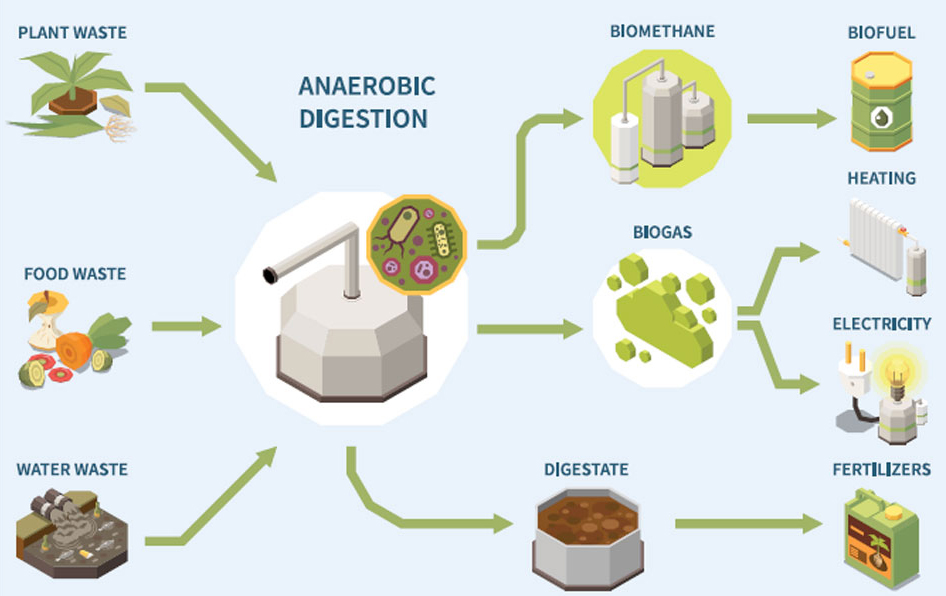 Outcomes-
The generated gas is acting as a replacement of 'Piped Natural Gas (PNG)' in canteen
Daily energy generation of 680 kWh through gas engine
Sustainability Benefits
Due to anaerobic digestion process of sludge, we are able to reduce 180 kg of sludge per day

Water Stewardship:
Water is used extensively in different stages of the production processes of our Company. This dependency on water makes water conservation measures and water management critical for us. To work towards water stewardship, a taskforce was established last year for all plant locations. The task force is responsible for conducting water-based risk assessments for all its plants and facilities, to identify any risk the Company would face in terms of water availability, and implementing water conservation measures and setting targets such as limiting water discharge, limiting water withdrawal, reducing consumption, etc.
Use of Water as a shared resource
At our organisation, we recognise the importance of responsibly managing water as a shared resource across all our business verticals. Each vertical employs distinct methods to meet its water requirements, aligning with the specific needs and circumstances of the operations.

In the Real Estate vertical, water is procured from various sources, including surface water, groundwater, and third-party suppliers. We prioritise the sustainable use of water resources, implementing efficient water management practices to minimise consumption and ensure responsible stewardship.

For our Pulp and Paper vertical, we solely rely on groundwater sources for water procurement. We understand the significance of preserving this vital resource and adhere to stringent measures to monitor and maintain sustainable groundwater usage in our operations.

In the Textile vertical, we collaborate with the Gujarat Industrial Development Corporation (GIDC) for the supply of water. This partnership enables us to access a reliable water supply while also fostering engagement with relevant stakeholders in the region.

Across all these verticals, we continually strive to optimise water usage, implement water conservation measures, and explore innovative approaches to minimise our environmental impact. By actively managing our water resources, we aim to ensure their long-term availability and contribute to the overall sustainability of our operations.
Water Stewardship at CTIL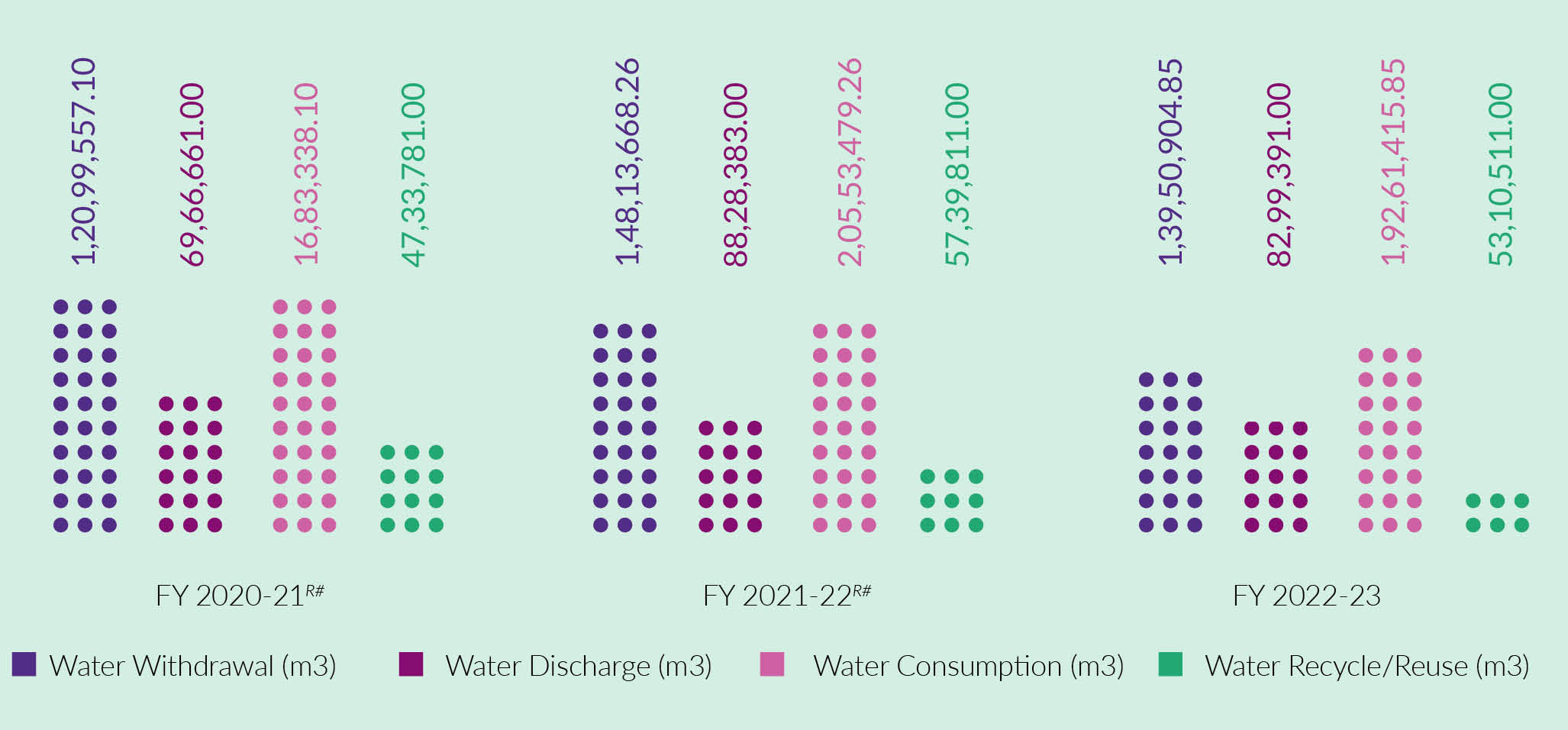 R#- There is restatement in water withdrawal, water consumption and water recycle/reuse figures as compared to the figures reported in Integrated Report 2021-22, this change occurred due to the error made in the previous reporting. The updated figures for FY22, FY21 have been reported in the chart.
REAL ESTATE:
Owing to large scale expansion of our Real Estate operations, there is an increase in the amount of total water withdrawal of the entity. However, over the past 3 financial years, the business vertical has innovated and implemented water reuse and recycling measures and made considerable improvement in the amount of water reused and recycled, such as usage of curing compound instead of conventional curing method for which we have saved 30 lakhs litres of water and implementation of Sewage Treatment Plant (STP) in our project site.
Water Stewardship at Real Estate

Water Intensity in Real Estate

As compared to last year the water intensity has decreased. This has been possible due to several water conservation & water efficient operations we have implemented in FY23. We are committed towards responsible water usage; we are continuously exploring innovative solutions and technologies to improve water efficiency in our operations.
PULP AND PAPER:
Water is a very important substance & key input material in paper making. Thus, Pulp and Paper has introduced several measures to monitor its water-related impacts. Implementation of water conservation measures at Pulp and Paper has enabled the entity to cut down on the amount of water withdrawn.
Water Stewardship at Pulp and Paper

Water Intensity in Pulp and Paper

At our Pulp and Paper division we value the efficient use of water, as compared to last year the water intensity has been decreased. Due to 49 different water conservation schemes implemented across the business vertical, the water consumption has also reduced by a considerable amount.
Our water conservation initiatives focus on sustainable water management practices, aiming to optimise water usage, reduce wastage, and promote water conservation. Through the implementation of innovative technologies, we strive to address the growing challenges of water scarcity and contribute to the preservation of this vital resource.
There are 49 water conservation initiatives at present having the cumulative potential of saving more than 2,000 m3 per hour. Below is an overview of top 5 water conservation schemes:
| Activity | Approx. Water saving Achieved |
| --- | --- |
| Reuse of foul condensate evaporate of Chemical Recovery Plant. | 100 M3/Hr |
| Reclamation of PM-3 and stock back water and reuse of same after clarification in RGP Chipper & Chips Washing. | 150 M3/Hr |
| Use of 47 M diameter clarifier back water after DynaSand filtration plant as freshwater in bagasse Pulp Mill. | 150 M3/hr |
| Recirculation of sealing water in 14 Nos.Vacuum Pump. | 150 M3/hr |
| Recycling of bleaching stage Back water. | 100 M3/Hr |
TEXTILES:
Due to implementation of water efficient technology and revamping certain production processes, Textiles was able to reduce the amount of water withdrawn over the past two years. Similarly, a reduction was seen in the water consumption across in the business vertical.
Water Stewardship at Textiles

Water Intensity in Textiles

R#- There is restatement in the water intensity figures as compared to the figures reported in Integrated Report 2021-22, this change occurred due to the change in the measurement methodologies used to produce the most accurate figure. The water withdrawal figures have been taken into consideration for all the three verticals to calculate the water intensity figures.
At our Textiles segment, we have been committed in limiting our water intensity. As compared to the FY21, we have been able to significantly reduce the water intensity on a year-on-year basis. Due to the continuous year-on-year increase in the amount of water recycle/reuse, our dependency upon the water withdrawal has been decreased.
There are two major water conservation initiatives which have been implemented in the reporting year i.e. 'Reusage of water' & 'Process modification to save the water'. We have achieved 16,317 kl of water saving in FY 2022-23. Below are the details of these two initiatives:
| Description | Proposed Water Saving (KL/Month) | Achieved water saving FY 2022-23 (KL) |
| --- | --- | --- |
| Reuse of media filter back wash water rejection by installation of bag filter. | 1,500 | 7,317 |
| Process water saving 1 liter/kg by Micro planning, continue monitoring, reduced reprocessing. | 750 | 9,000 |
Water Discharge:
In our Textiles segment we have already implemented Zero Liquid Discharge (ZLD) so there has been no water discharge from our Textiles divisions. In our Pulp and Paper segment we have discharged 82,99,391 m3 of water after the treatment this year which is 5,28,992 m3 or 6% less than the water discharged in last year. We have set effluent discharge limit based on the metrics such as Chemical Oxygen Demand (COD), Biochemical Oxygen Demand (BOD), Total Suspended Solids (TSS) and pH. As per requirement from plant, specific standard is being considered and water quality internal guidelines have been followed. We assess the waterbody receiver profile before the discharge. The quality of the water discharge is being continuously monitored using Online monitoring stations and same is connected on real-time with Central Pollution Control Board (CPCB).
By increasing our recycle percentage, we have been able to effectively reduce the volume of effluent and water discharge generated by our operations. Recycling plays a crucial role in our water management strategy, as it allows us to treat and reuse water within our processes instead of relying solely on freshwater sources. Through the implementation of innovative recycling systems and processes, we have been able to recover and treat a larger portion of our wastewater, enabling us to significantly reduce the amount of effluent and discharge water that needs to be released into the environment. This reduction has positive environmental implications, as it helps to minimise the potential impact on local ecosystems and water sources.
In the Real Estate for the commercial properties, we have set up the advanced Sewage Treatment Plant (STP), the maximum water that can be recycled via STP in day for Birla Aurora and Birla Centurion are 200 Kilo litres/ day Centurion – 150 Kilo Litres/ day. We have the zero-discharge ETP having a four-stage filtration RO system with the capacity of 2.5 MLD which helps recovery of water up to 95% in our Textiles segment & similarly we have Effluent Treatment Plant (ETP) having capacity of 40 MLD to treat the discharged water at a large volume.
Responsible Material Consumption:
At CTIL, we prioritise responsible consumption of materials across all our businesses. We strive to minimise waste and maximise resource efficiency throughout our operations. By implementing innovative technologies, adopting eco-friendly production processes, and promoting recycling and reuse, we ensure that our material consumption is both responsible and sustainable.
In Real Estate, we place a strong emphasis on obtaining raw materials locally, considering the potential savings and sustainability. Our operations actively promote the use of recycled resources. We make sure that low Volatile Organic Compound (VOC) paints are used in all our projects to support environmental sustainability.
Wood with bark, wood waste mix chips, bamboo, controlled wood, wastepaper both imported and domestic, bagasse, and imported fibre or pulp are the main raw materials which we use in our Pulp and Paper vertical. We continue to abide by the Forest Stewardship Council (FSC®) guidelines and avoid obtaining wood from questionable sources like historic and endangered forests. Pith, a related raw material, is obtained internally as a by-product of processing bagasse, which is obtained from sugar mills.
At our Textile vertical, we are focusing on reducing consumables and shifting focus towards green procurement. We increased the use of sustainable fibres, including the Better Cotton Initiative (BCI) and Fairtrade Cotton, hemp fibre, lyocell.
| Type of Material | Metric Tonnes (MT) |
| --- | --- |
| Renewable | 8,64,804.68 |
| Non-renewable | 2,15,396.00 |
| Recycled | 32,826.12 |
| Total | 11,13,026.80 |
We at CTIL, have been committed to using renewable material as a large portion of our total material consumption.
As a part of our commitment towards Extended Producer Responsibility (EPR), we reclaim plastic packaging for recycling. All plastic packaging is reclaimed and collected by a third party for safe disposal/recycling.
For the reporting year, the percentage of total products sold in the respective category has not been calculated. However, we aim to disclose the information in the future.
Bio-Diversity and Ecosystems:
We at CTIL, across all our business verticals are dedicated to promoting peaceful coexistence with nature and prioritise the healthy development of the surrounding.
By integrating biodiversity considerations into our operations and decision-making processes, we aim to contribute to the long-term health and resilience of ecosystems while fostering a harmonious relationship between nature and business.
We ensure that our activities do not take place in protected areas and areas of high biodiversity value outside protected areas enabling us to reduce the risks of impacts. Our construction and manufacturing processes focus on biodiversity preservation and conversation. For the construction activities, we ensure to comply with the pre-certification of 'Green Building' to develop the project in an environmentally sustainable manner. We grow locally available plants and shrubs in our green areas and avoid any invasive species. Further we maintain permeable zones to replenish the groundwater. All our operations and developments are only in non-International Union for Conservation of Nature sites. None of the IUCN Red List species have been impacted by our activities.
Vanotsav at Real Estate:
'Birla Navya Vanotsav', a special programme arranged by our Real Estate vertical for the homeowners of Birla Navya that embraces sustainability while having fun with family. The initiative to plant saplings has yielded wonderful positive outcomes. By planting saplings, we have contributed to the greening of our surroundings and the restoration of natural habitats. Additionally, 'Vanotsav' has raised awareness about the importance of tree planting and inspired others to take similar actions. The positive impact of planting a single sapling goes beyond its physical presence, as it symbolises our commitment to preserving the environment and creating a sustainable future. Our small act of planting a sapling has generated significant environmental benefits and serves as a powerful reminder of the transformative power of individual actions.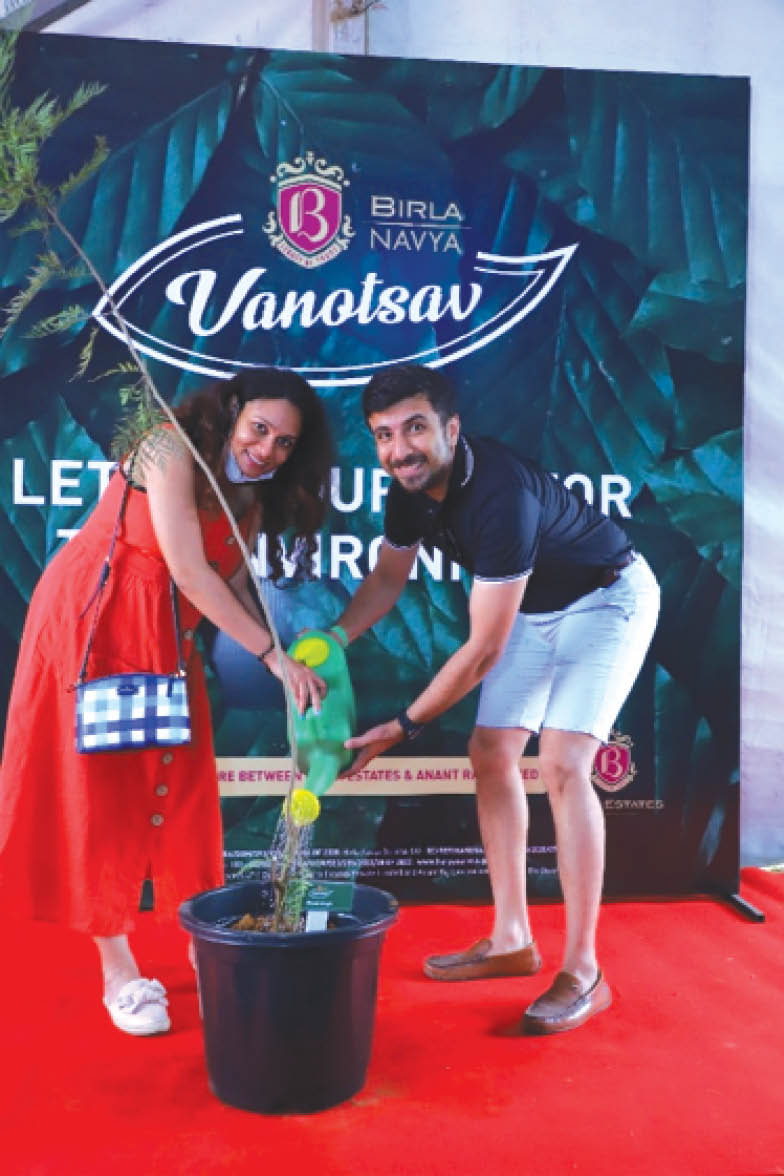 Pulp and Paper
Recognising the essential role that trees play in supporting ecosystems, mitigating climate change, and enhancing biodiversity, we have implemented extensive tree planting programs across our operational areas. Through these efforts, we have established thriving green spaces that provide vital habitats for numerous wildlife species, while also improving air quality and promoting a healthier environment. We have planted 27.42 lakhs of trees in this reporting period.
Additionally, through our 'Amrit Sarovar' initiative efforts in creating and restoring water bodies have ensured the availability of clean drinking water for wildlife in dense forest, along with thriving ecosystems that support a diverse range of flora and fauna while recharging the ground water. In this reporting period we have created 12 numbers of Amrit Sarovars.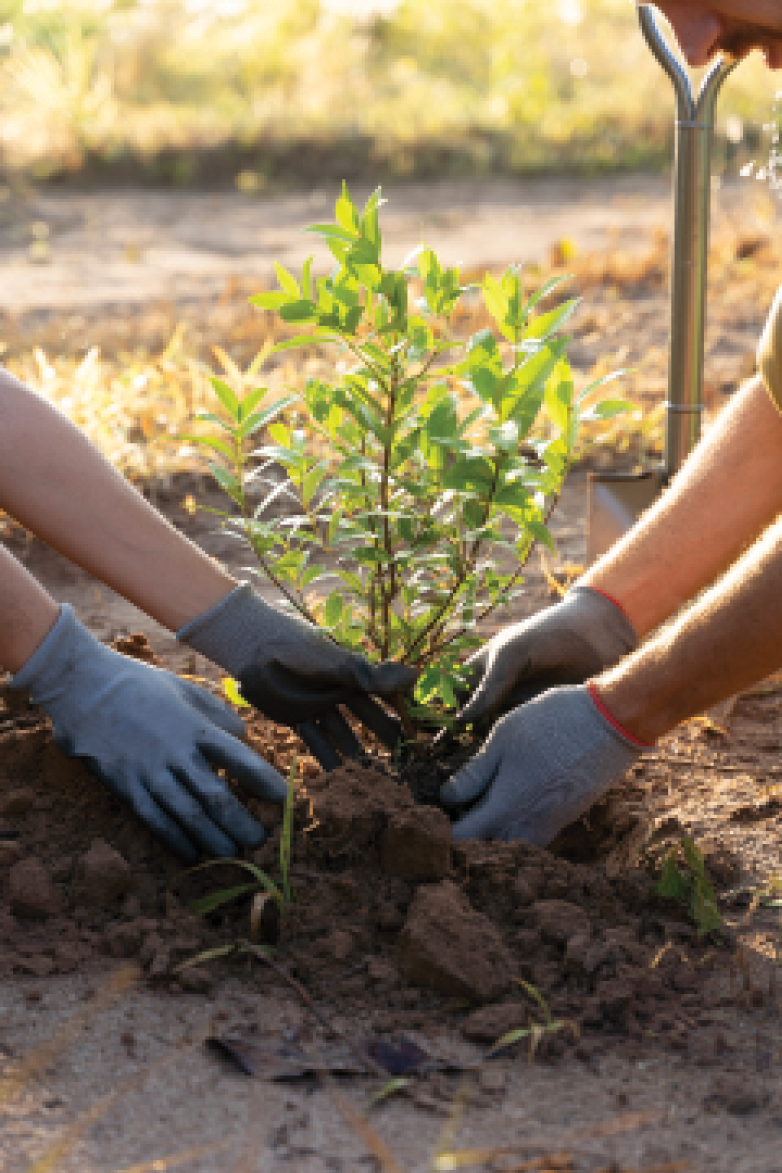 Textiles
At textile segment, we remain committed to expanding our tree plantation initiatives, ensuring the preservation and enhancement of our natural capital for a sustainable future. In this reporting period we have planted 5,000 trees, by planting a diverse range of trees. We are committed to further expanding and enhancing these initiatives to protect and preserve our natural capital for a sustainable future.
Future Goals and Commitments
Emission Reduction & Efficiency Improvement

To continue to reduce Greenhouse Gas Emissions and improve energy efficiency in operations across all business verticals.

Zero Liquid Discharge

To work towards achieving Zero Liquid Discharge across all business verticals.

Efficient Waste Management

To achieve zero waste to landfill and implement measures to reuse waste across all business verticals.

Effectual Water Stewardship

Making water stewardship a core value at all the business verticals and making all business operations water efficient.
Focusing on our commitments and action towards the material issues identified under Natural Capital it is evident that CTIL is on a pathway of building a sustainable future. We recognise the immense value of natural capital and the critical role it plays in our business operations, as well as in the broader society and environment. We have embarked on a journey to integrate sustainability into our core strategies, and the preservation and enhancement of natural capital are at the forefront of our agenda. Through our comprehensive approach, we have not only identified the various dependencies our business has on natural resources but have also implemented proactive measures to mitigate any negative impacts across three of our business operations.
By valuing and accounting for natural capital, we have gained a deeper understanding of the interconnections between our operations and the environment, development a more sustainable and resilient business model. Our commitment to natural capital goes beyond compliance and basic environmental stewardship. We recognise that by safeguarding and enhancing natural resources, we are investing in the long-term viability of our business, fostering innovation, and creating shared value for all stakeholders. We have embraced the concept of regenerative practices, seeking opportunities to restore and regenerate ecosystems, while simultaneously reaping the benefits of increased efficiency, cost savings, and brand reputation. By collaborating with key stakeholders, we can collectively address the challenges posed by resource scarcity, climate change, and biodiversity loss, working towards a future where natural capital is protected, valued, and restored.
In conclusion, we are taking a proactive stance in driving positive change, ensuring a more sustainable and resilient future for our Company, our stakeholders, and the planet as a whole. As we move forward, we remain dedicated to continuously improving our responsible business practices, embracing innovation, and collaborating with partners to secure the health and prosperity of natural capital for generations to come.
Human Capital


Social & Relationship Capital